The South Fork of the Coquille River, about 5 miles south of Powers along County Road 219 (which turns into National Forest Development Road 33), cuts a beautiful channel through the hills. There are lots of waterfalls including this one, Elk Creek Falls, which is about 50 yards from the road.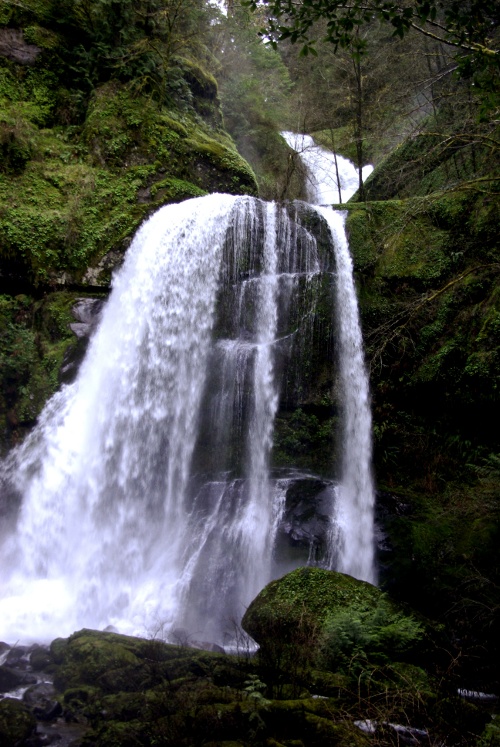 This waterfall is less than 20 miles from our house as the crow flies, but it takes nearly an hour to get there. I've lived in this area for about a dozen years and never made the trip until about a month ago, when I found myself visiting my dentist in his office in Brookings, which is a little town on the Oregon Coast, just above the California border. This was the day before the Japanese earthquake/tsunami hit Brookings and did some damage to their dock facilities and sank a few boats.

The rain was pretty fierce on the three-hour drive down Highway 101 to Brookings, and it had been heavily raining for days, so there was a lot of water in the streams.

Driving back north along 101, I got to Gold Beach and saw the sign pointing to Agnes. I decided, on the spur of the moment, to take the back road home; going through Agnes and Powers on the way back to the ranch instead of up Highway 101 and over to Coquille, then south again for an hour. The road isn't maintained during the winter, but I figured it couldn't be too bad. I was wrong. There were several places where the gravel road had sunk ("sunken grade", as it is called here) and there were some small trees down I had to drive around, as well as some large trees that had obviously been cleared recently by someone with a chain saw. I saw no other cars on the entire stretch of road, which is worrisome. But after going over the pass and chugging through some rutted snow in 4-wheel drive, it turned back into paved road. There was only one stretch where there were road guys out fixing a slide a couple of miles south of the waterfalls. They seemed surprised to see me coming up from the south. If they hadn't been there working on the road, I would have had to go all the way back to Gold Beach and start over.

The waterfalls that day were swollen, and the deep water churned a turbulent brown in the Coquille River, which was well above the banks of the river and racing along at about 25 miles an hour down the riverbed. The waterfalls, which are usually pretty demure and placid, were raging torrents of water pouring into the river. I didn't have my camera with me, so I went back last week and took these pictures. I plan to go back after a big storm and see if I can capture a sense of how wild it looked like with the water pouring into the river from all the waterfalls.

These mushrooms (Marie thinks these are morels) covered about two square yards, and were growing within a few feet of the road.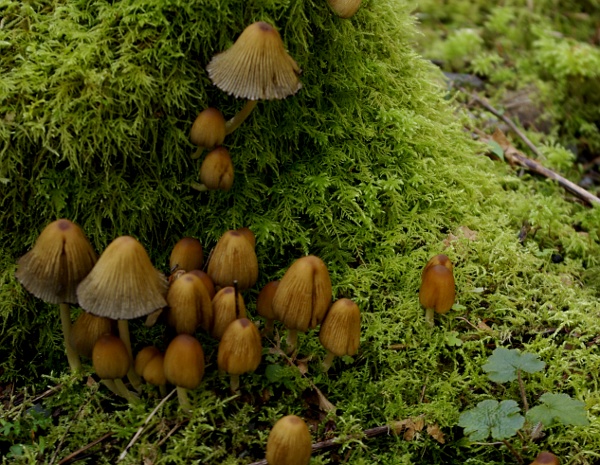 This tree, whose roots have been partially washed away, dominates one of the roadside parks.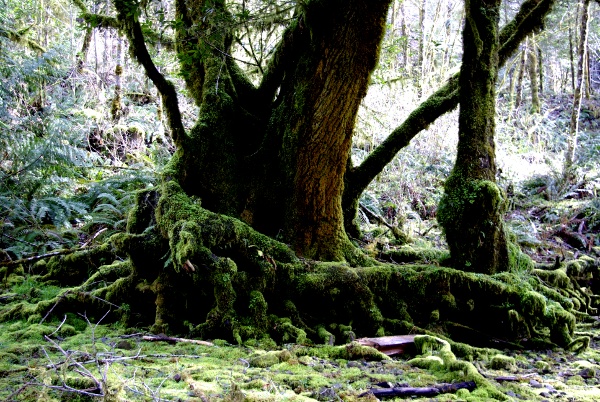 I realized while driving this trip that I had made this journey once before, from Agnes over to Grants Pass, when I was a child, about 50 years ago. My step-father used to like to get out and drive on a Sunday (we didn't go to church), and he took us all over Southern Oregon — except he never took us to the Oregon Caves. Which is weird. They are spectacular and worth visiting. We were driving in a 1949 Packard that was his pride and joy. Unfortunately, it broke down in Gold Beach and we were stuck there for 24 hours waiting for a part.