We went to Oregon Country Fair on Saturday. My main purpose was to get a pair of hand-made boots. While taking loads of photos of the costumed revelers, I had a great time with my grandkids, daughters and significant other. Oregon Country Fair 2009 was a bit colder than the last time we went (about ten years ago). My gal had purchased two pairs of boots back then made by Hank Zander of Happy Feets (Dillard, Oregon) and she really liked them, so I thought it was time for me to get a pair. My feet get really cold in the wintertime, and I asked him for some boots that would be warm when worn with thick socks–I don't like shearling-lined boots as my feet get too hot in them, typically. We settled on boots made of moose hide, with bear leather toes and heels, in a light color with a foamy sole with some good traction. When they come in (probably Sep-tober or No-cember, according to Hank) I will post a photo of them here.
Truly good hand-crafted shoes are not cheap, I discovered, but one guy wandering by the booth while I was being fitted, said that he had owned the pair he was wearing, made by Hank, for 25 years and he was still on the original soles. They still looked great.
This is a photo of one of the other customers being fitted for a pair of knee-high boots.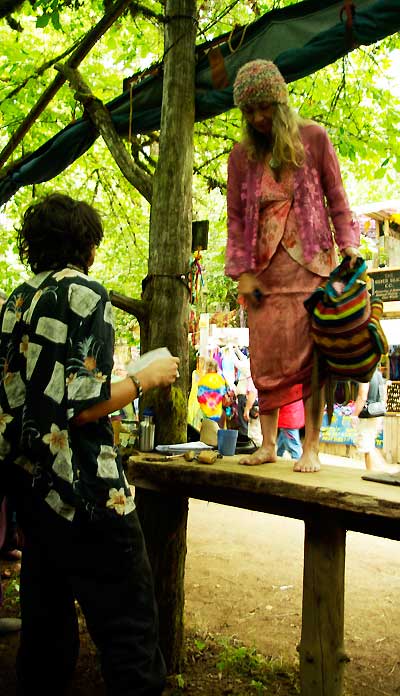 My gal took this photo of the guy doing the fitting on my boot. Basically they start by having you put on an old, thin sock, and then they wrap your foot in duct tape, carefully cut and marked so they can avoid putting any seams over protruding bones or joints or corns. Hank has a couple of apprentices who do the marking, but they seemed to be pretty good at what they were doing. They have to cut it off of your foot when they are done, since it is very form-fitting.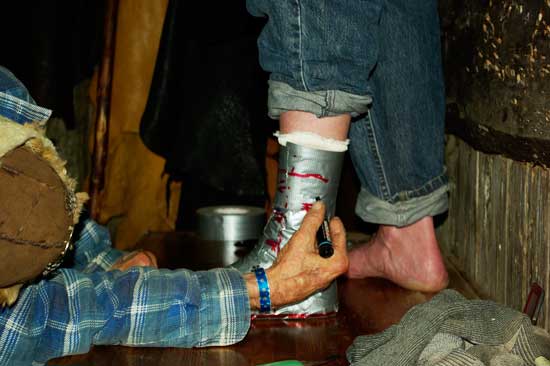 We spent all day at the Oregon Country Fair, where the food is quite good, and came home tired beyond belief. I think we walked about 5 miles as it is very spread out and we saw just about everything.
The best thing about the fair was the friendly people, many of them costumed or face or body painted, and the spirit of play and whimsy that was evident everywhere.
It never got hot enough to raise the clouds of dust that I remembered from our visit to OCF ten years ago — it was overcast all day and the temperature was perfect.
That meant there were lots of people wandering around in body paint and not much else.
I've posted a lot of photos on Flickr – Click this link and youl'll find one of them (may not show up for a few days, according to Flickr).
Flickr Oregon Country Fair photos
Here are a few I thought were worth sharing here on my blog: