My daughter Desi and her twin girls went along with me to visit my sister near Poulsbo, Washington in early October. It's a long trip by car from our ranch in southern Oregon, but some of the views were spectacular and we had a great time.
This is a view of Seattle seen from the Bainbridge ferry platform, where we waited an hour or so for the ferry on the way back.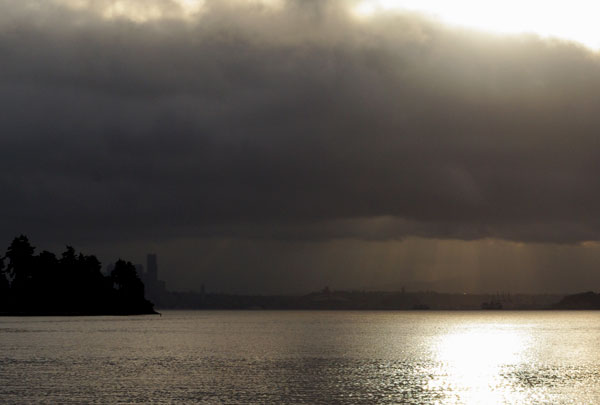 We didn't have to take the ferry – it would have been faster to just drive south on the very pretty roads in Washington, but we opted for a ferry ride because the twins had never been on a ferry before. Sometimes you just have to do new things because they are new–and fun.
This next view is of Seattle from the ferry itself after we were underway; the "Tacoma", a double-decker ferry that was mostly empty on a Sunday morning. This photo caught the moment – click it to see it bigger.