Been a long time—a reader scolded me today for not posting more often, so I'm going to give it a go. Had some major computer problems in January that put me way behind. Basically I bought a new computer from pieces and had it assembled—it then proceeded to crash for the next month until we discovered the memory had been placed into the wrong slots and we had to slow down the bus speed a hair. It's a 3.2 GHz Pentium 4. Really nice and fast now that it is working properly.
And Google seems to have repaired most of the problems caused by the November Florida update I was complaining about in my last blog posting.
I have found and am using some new tools for optimizing websites. This one, the Internet Business Promotion Tool — is a gem. It helps one analyze the top 10 pages (the search results) for any search phrase at Google (or any other search engine) against a page that you are optimizing for the same phrase. It has helped me get a couple of sites that slipped during the Florida update back on track at Google. At $300 it is was a bargain. It's not completely foolproof – and it takes an experienced person to know which of the thousands of recommendations it can make are worth following. But I can use it to divine what is needed on a particular page to get it from page 2 to page 1.
The site I optimized for Phil Mount of Christian Single Web is doing really well at Yahoo for all his search terms such as "Christian dating" – first page placement for most of them. Mostly second page placement at Google, but I am counting on further revisions of their algorithm to get back on the first page. Rather than chasing the algorithm, I am trying to be patient. Phil sent me a terrific success story, which I posted here: https://www.wordsinarow.com/references.html (Note – the site linked to went off the air in 2015)
I'm piloting a new service – for $100 I am spending a couple of hours doing an analysis of any page for a certain key word phrase, and sending a detailed, step by step program to my client of exactly what needs to be done to the site to make it onto the first page of results at Google/Yahoo, etc. So far I've had a few takers from among my old client base – will see whether this is something to offer to the general public. After mentioning this in a couple of proposals to new clients, I haven't had any new public take me up on it. I'm thinking it may be a bit steep for an introductory offer. I may have to keep giving this service away to new clients as part of my proposal to them. We'll see.
That service, when implemented, took the Gloves in a Bottle site back to first page placement at Google for "dry skin lotion" – it's #3 there today for that phrase.
Another good (free!) tool is this one, which shows you what your site looks like to the search engine spiders. It's a basic text viewer named Lynx, which is what you might use to surf if you were visually handicapped and used a reader to read you the content of web pages, or if you had very limited bandwidth. Say you were out in the bush and using a satellite phone, you could use this to surf the internet. What it shows you is the same "text-only" information that the search engines see when they crawl through your site:
http://www.seotoolkit.co.uk/spider_viewer.asp
Have also been busy learning how to do HTML formatted emails. My own newsletter, Design Coolness, will be coming out shortly in the new format.
New clients: In the last three months I have pulled in a half a dozen big new clients – which explains why there haven't been any entries for a few months. I've been working a lot! Will try to post again this week. Wish me luck!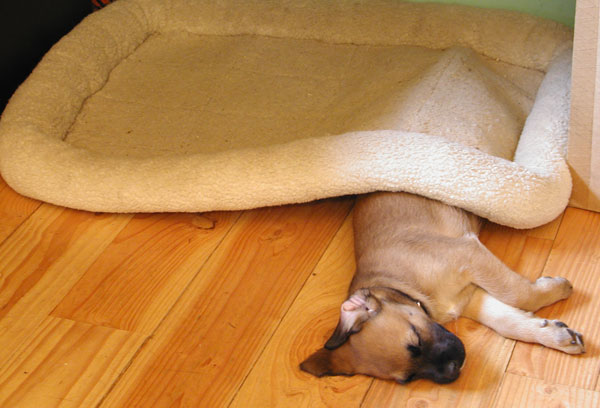 Oh – and I should mention Maximus Impedimentus, the wonder dog – our new puppy. The picture is from when he was about 8 weeks old and he wasn't quite with the whole dog bed program yet… He is a boxer-mastiff mix, weighing in at about 40 pounds right now that he is 15 weeks old (born on Thanksgiving Day 2003) – and already completely housebroken. I believe he will easily reach 120 pounds at the rate he is gaining weight.
He seems quite bright for a puppy – so far he has learned five tricks: sit, up, lie down, shake, and roll over. Of course he sometimes gets them confused, especially when there is some kind of meat treat involved and he wants to shorten the process. Sometimes he just does all his tricks in the sequence he learned them, figuring that when he gets to the one you want, he will get his treat. (Not so!) Or he throws a tantrum and just barks and growls at the hand with the treat, or he will jump up and try to knock it out of your hand. He has proved to me that, at least in dogs, intelligence and patience do not always come in the same brown wrapper. We plan to teach him many other tricks, such as "oh, no!" (paws over head), "die" (fall down when "shot" with your finger) and to speak, sing and dance on command. We'll see if he's up to it.